Dear parents,
GHIS is accepting admission for lower elementary stages American Division "Grade 1 , 2 & 3" 
Deadline 15th Feb 2018
Limited Vacancies.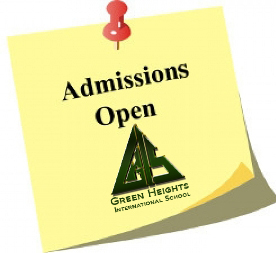 18- 29 Oct 16
GHIS is holding its first book fair for this academic year 2016/2017. This year we are hosting two bookstores presenting at our book fair"Diwan" and "The Egyptian-American Book Center"
School Facilities
GHIS campus is custom-designed and well-equipped to accommodate all the ingenious educational and learning activities, thus offering a highly-inspirational environment. Special attention is given to the ratio of play, activity and classroom areas per student. Facilities include, but are not limited to, the following:

GHIS has spacious, well-ventilated and furnished classrooms to make the students learning comfortable and enjoyable. Technology, a data show and a projector, also prevails in our classrooms. To avoid carrying heavy school bags, special storage facility is provided for every student in the classroom. In all classrooms display boards too are provided to display schedules, notices, etc.

Well-equipped Physics, Chemistry and Biology labs provide an open environment for students to experiment and do research work. All these labs are provided with lecture areas, too. The science department ensures that students do real experiments.

In addition to 3 music rooms fully-equipped with various musical instruments, GHIS has a specially-designed music studio under a full-time faculty. A wide spectrum of eastern and western melodies is offered to the student community by our exceptionally talented Music Department. Classical vocal too is emphasized. The school band is a basic wonderful number in events that take place within the school premises.

Labs in GHIS are well-equipped with an advanced infrastructure in terms of hardware and software which cater to the requirements of the students, teachers and the curriculum. The school is equipped with a dedicated broadband Internet connection for students to get a chance to use the Internet for research purposes. They usually do comprehensive research for their projects and presentations.

The school has a fully equipped well-ventilated and air-conditioned library that offers a relaxing reading zone where students have access to various sources of knowledge. It is stocked with plenty of books in various categories and genres.

Art rooms, a medical clinic, gymnasiums and other sport facilities including soccer fields, basketball, tennis, volleyball courts and School Theater Fully-equipped, well-ventilated and well-illuminated with an up-to-date light system as well as a modern sound system, the school theatre supports live performances and productions.
Get in touch
We will be happy to hear from you concerning your comments, suggestions or questions.
Green Heights International School
New Cairo - First District
Alamn Alaam Compound - Behind Mirage City.
Phone: 02 23285079  -  23285078  -  23285069  -  23285083
Mobile: 012-74339115
FAX: 02 23285084
E-mail: info@greenheights.net