In Green Heights International School, we believe that the Early Years are the foundation of the child's development. Our curriculum emphasizes the development of physical, academic and social skills in a friendly and child-centered environment. Through our program, children develop skills in many areas; English language, early years Math and cognitive abilities that are all carefully integrated. In addition, physical development is encouraged through P.E program as well as skills in creative art, music, computer keyboarding and ethics. Through Themes and Projects, teachers explore key learning areas in all core subjects alongside laying a moral and spiritual foundation.
The Project approach is a strategy used by teachers to guide students through in depth studies of real world topics. Project themes include, for example, Under the Sea, Transport, The Rain Forest, Occupations and Countries of the world. Each trimester, different themes are introduced and studied/explored using a variety of media, resources, materials and project ideas.
Key Objectives of the Early Years "the six areas of learning":
Personal, Social and Emotional Development; helping to build confidence, concentration, independence and respect.
Communication, Language and Literacy; developing speaking and listening skills and beginning to read and write.
Problem Solving, Reasoning and Numeracy; focusing on number work, mathematical ideas and thinking.
Knowledge and Understanding of the World; helping children investigate and think about their place in the world.
Physical Development; developing physical skills and understanding.
Creative Development; centered around building children's imagination.
During the early years of learning, we help our children with:
Following rules and routines.
Listening and speaking.
Sharing and taking turns.
Self-confidence and expressing feelings.
Vocabulary and following directions.
Alphabet and number awareness.
Enjoying stories and books.
Eye-hand coordination for cutting, coloring, pasting, writing….etc.
Creative thinking and exploring.
Assessment
In GHIS, teachers observe and respond appropriately to children. Our teachers make continuous detailed observations of our students. This helps them to recognize patterns in children's play, how they interact with adults and each other, what they are interested in and how learning can be extended.
For each child, our teaching staff compiles and reviews a personal report card documenting his/her process of development and learning in all areas of personal, social, emotional, intellectual and physical development. Through this process teachers and parents together can better identify and meet the child's unique developmental needs.
We hold regular parent conference days where parents have a scheduled appointment to discuss their child's progress and development.
Field trips & Fun trips
In GHIS, we work on a Theme approach to learning and we like to extend the classroom out to the local environment; field trips will complement a particular theme" The trips are very well supervised to ensure the success and safety of the trip.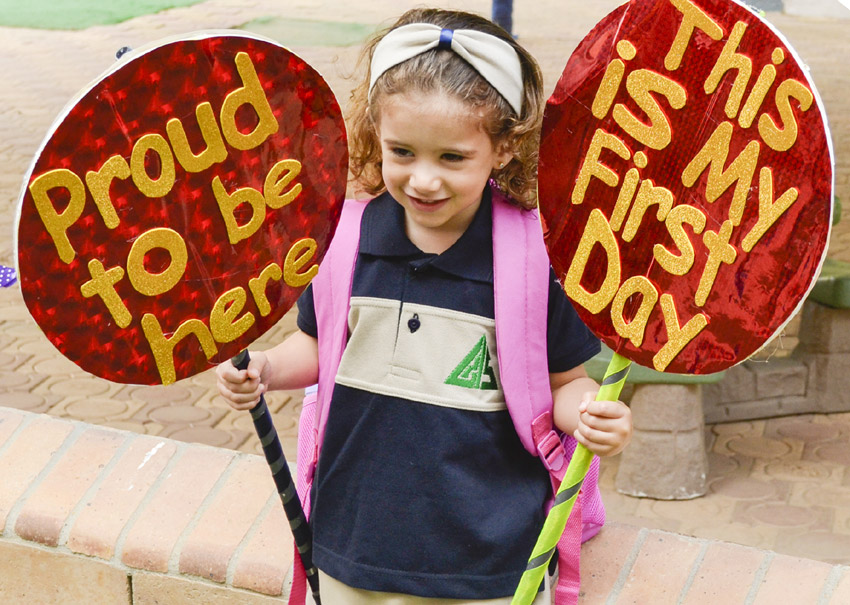 Special Days and events 
We celebrate several special days through the school year to complement aspects of the curriculum. These may be linked to the following areas: community charity support through "We are One", religious festivals; Sports day, academic presentations, annual shows, and fun days.
"We Are One" is a non-profit charity campaign that aims to support and provide the most fundamental of needs for others.
"Academic Presentation": is an indoor "class" visit where Parents come to school and see how their child participates and interacts in the classroom with his/her teachers.
"Annual Show": is our end of year class production when you can see childrCore Subjectsen performing on stage and speaking up confidently.
Within our academic curriculum we encourage role playing when children do role plays, they naturally become someone or something else. Role play stimulates their imagination and enhances their social development, it encourages friendship through cooperation, listening and turn taking. Therefore, role play is a really vital activity for our children. They can learn many skills and attitudes during role play, and learn how to be co-operative (teamwork) and be empathetic with others. They can learn to express all their feelings. They also can learn about other cultures and improve their language and movement skills.
1-Literacy
We use Jolly Phonics for teaching literacy, why Jolly Phonics?
What is Jolly Phonics?
Jolly Phonics is a fun and child centred approach to teaching literacy through synthetic phonics. With actions for each of the 42 letter sounds, the multi-sensory method is very motivating for children and teachers, who can see their students achieve.
Letter Sound Order
The sounds are taught in a specific order (not alphabetically). This enables children to begin building words as early as possible.
How does Jolly Phonics work?
Using a synthetic phonics approach, Jolly Phonics teaches children the five key skills for reading and writing.
The five skills taught in Jolly Phonics
Learning the letter sounds: Children are taught the 42 main letter sounds. This includes alphabet sounds as well as digraphs such as sh, th, ai and ue.
Learning letter formation: Using different multi-sensory methods, children learn how to form and write the letters.
Blending: Children are taught how to blend the sounds together to read and write new words.
Identifying the sounds in words (Segmenting): Listening for the sounds in words gives children the best start for improving spelling.
Tricky words "High Frequency Words": Tricky words have irregular spellings and children learn these separately.
2-Super Safari level 1 and level 2  
Super Safari is a course that welcomes our students to English through stories, songs and plenty of playtimes while supporting their cognitive, motor-sensory and social development.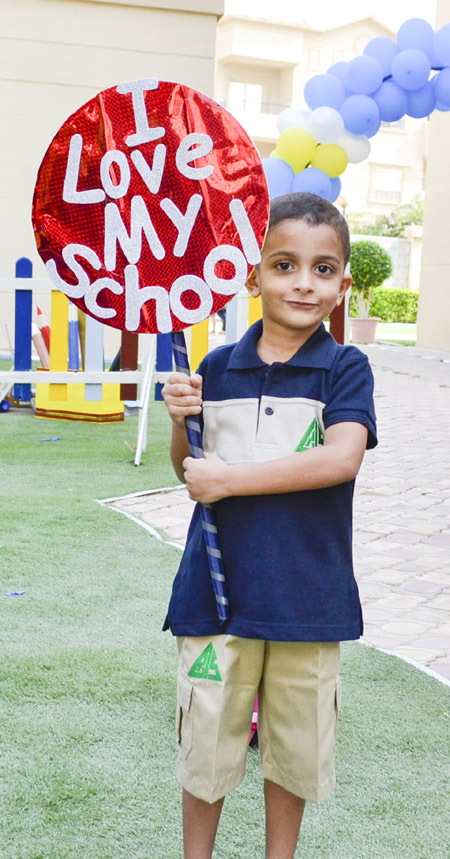 3-Reading
As your child progresses through the early years stages, a reading system will be introduced. We start reading as early as the third week. Children will receive reading lesson 3 times/week with a reading teacher. This includes several reading programs via the jolly phonics curriculum and Oxford reading tree.
As we mentioned before we are using Jolly Phonics reading books. Each book has pages with a single word and a picture of the word next to it, under a flap. The children read the word and then lift the flap to see if they are correct!
Students start blending two letter words after completing the first set "s, a, t, i, p, n" as : (at-in-it ), then we start introducing three letter words from the same set as "sat-sit-pan-pat" and so on till we complete the seven sets and they will be able to read full simple sentences by the end of stage1. In stage 2, we will follow the same system "jolly Phonics" but the advanced level.
We are also using Oxford Reading Tree, it is used worldwide because children just love reading about the fun characters and it is filled with humour, drama, detailed illustrations and endearing characters to motivate every child and it also helps a lot with tricky words.
4-Numeracy
Children learn math with concrete materials- real stuff, manipulatives, such as blocks, counters, sticks, in order to make sense of new math concepts or abstract ideas. Only after children have had ample opportunities to learn a new concept with real objects are they ready to connect their learning to abstract symbols such as numbers and math symbols
5-Science and knowledge and understanding of the world
For young learners, science is just an extension of their everyday world. We don't have to teach young children how to wonder, discover, and explore through play because they do it naturally.
It's so important to focus on working with early learners to learn how to create amazing experiences that encourage discovery through play, asking questions, exploration and using creativity to solve simple problems. Amazing experiences turn into unforgettable learning experiences that can inspire and motivate children to want to learn and explore more on their own.
Knowledge and Understanding of the World relates to children's everyday lives, their homes, families, other people, the local environment and community, and the wider world.  There are three main areas in this area of learning -
Places and people 
Time and people 
Myself and other living and non-living things 
6-Character Building
Character development is about helping students learn and practice positive character attributes. When we build good character, we build strong communities. In the school community, character development is woven into programs and practices it becomes a way of life. Student success is dependent on a safe, caring and inclusive learning environment where all students feel valued. This starts by teaching our students about the value of character - respecting themselves and each other, making positive contributions to their school and community and thinking critically and creatively.
How does Green Heights build a future leader?
Contributes to a healthy, safe and orderly school environment by a great school system to follow. 
Develops the whole student by daily open discussions along the day.
Provides high expectations for learning and behavior  and engages students in their learning 
through our daily class routines and class rules
Growth of self-awareness, self-discipline and understanding through stories, daily life events and "thinking chair" routine / system.
Arabic & Religious Studies
The school is committed to teach two compulsory subjects which are:
Arabic language and Religious studies.
Stage1 receives a daily session of Arabic and 20 min of religion.
Stage2 receives a daily session of Arabic and 20 min of religion.
Homework 
In stage 1, No Homework is given at our Early Years, teacher may ask parents to "find" something with their child which is related to the theme or is part of our phonics program. It is also important that your child has something for "show and tell" on the correct day. This is far more beneficial than "formal" homework. In stage 2, math, Arabic, English homework will be sent for practice through our resource packs.
Foreign Language
Children are taught French as a second language from stage 2. They learn by listening, seeing, imitating, and practicing. Teachers use Communicative approach form the start. Introducing them to rhymes. Songs, games and counting in French. Teacher's body language and fun makes learning a sure thing.
Children receive 3 French lessons per week.
Other Subjects
Students are also given 2 sessions per week of the following:
Art
Artistic exploration encourages important skills such as creative thinking, adaptation, problem-solving, innovation, and follow-through. As they grow, their ability to engage in complex projects increases, paving the way for vibrant, creative, and expressive artistic endeavors.
Music
Using songs and rhymes is a great way to help children develop their language and communication skills. Songs have positive impact on a child's literacy development.  Throng music children have a chance to catch the words and the way they're formed. It encourages students' participation and increases their self-confidence
Physical Education (P.E.)
Our students will new ways of moving; hopping, walking, running, jumping, leaping, skipping, and sliding they will practice these movements while experimenting with changes in speed and direction. Teachers use music in the background to encourage children's creative instincts. We teach them to accept difficult challenges, when they fall down, they have to stand up again. If they drop a ball, they pick it up again. And if they lose, they learn to say, 'That was a great game. I want to play again.'
Through all these subjects we work on the development of your child's skills:
Observing
Comparing
Classifying
Enquiring
Exploring and experimenting
Listening
Making decisions
Predicting and testing
Reflecting
Describing
Sorting and grouping
Sequencing
Asking/answering questions
Investigating
Thinking
Solving problems
Recording
Communicating
Evaluating
Entrance Assessment
Green Heights International School sets high expectations for its pupils. In order to achieve these expectations, pupils need to have an acceptable level of English, a good attitude towards learning and good behavior. Pupils who are unable to meet the desired levels cannot be admitted to the school.